gus slept til 8 this morning. any morning he does that is almost a promise for a good day.
rather than lounging around all morning and trashing our clean house, or being bummed that kevin finally went back to work...we loaded up. ran to the bank then some disappointing garage sales. riding on the gas light we opted to go to kev's store and get gas...and why not, some donuts too. then on to the farmer's market, where we got a good deal on a ton of strawberries. kevin could pretty much live on berries alone, so he was stoked.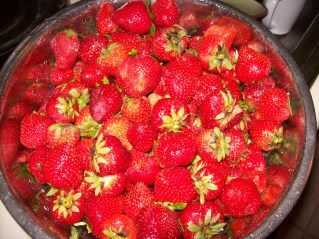 then we were just going to go to the park by the market...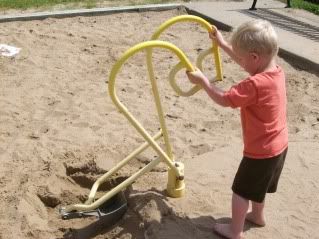 when i noticed some kind of festival going on. so we walked around a bit, and there were all kinds of free things to do.
sometimes i look like a total fool in public. trying to rein gus in (often with him screaming 2 year old nonsense that clearly equal major cursing in his language), telling rex to stop touching things and stay closer...while trying to not drop or bump leo into things. but sometimes they hold hands, and stay close to me, and stay quiet and leo just grins at people(well, he usually does that). and we
look
like we really have it together. and we pulled off the latter today. i
love
that.
so the festival. apparently the 10th annual inernational something rather...
included this train ride. major hit.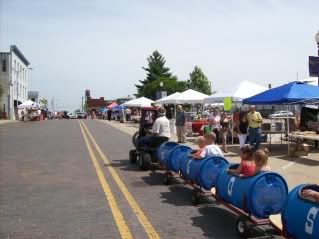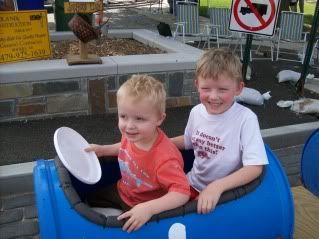 there were several booths set up with free samples of food, candy, little dinky toys...little boy heaven.
also a little station with cool bubble blowers and a bucket of soap. they sat here forEVER blowing bubbles.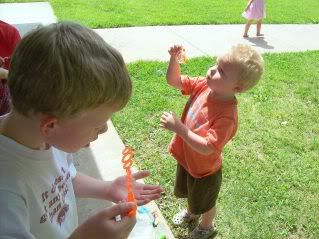 add to the easyness[is that a word?] of this lovely saturday...the wee one slept this whole morning away in the carrier. and it was just cool enough this morning for that not to be miserable for both of us. days i go out with him in here, i'm stinking happy he's not on the weight chart. i can't imagine lugging around a chubby baby in this thing.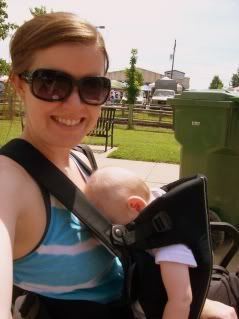 happy weekend.