helpful first. not all the time of course. but sometimes i find something quite useful for them to do, and they are pretty good at.
this is one of my favorites. i save it for days we really need something different to do...b/c i certainly don't want to overuse it and have this one get old. it's a sweet system. rex stands on the chair with tongs and unloads the laundry piece by piece, and hands it to gus, who tosses it in the dryer. sure, this takes about 10x longer than me doing it myself but...
1) they think this is super fun?
2) i'm not having to do it.
3) it takes them about 10 minutes...usually plenty long enough to distract them from whatever i was trying to distract them from with this ploy. [i.e. throwing balls to unreachable places and begging for them back, wrestling matches that had gone too far, 5th episode in a row of clifford...whatever]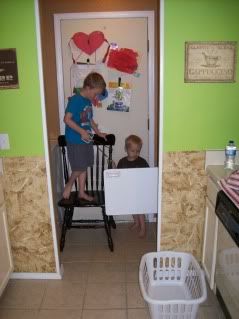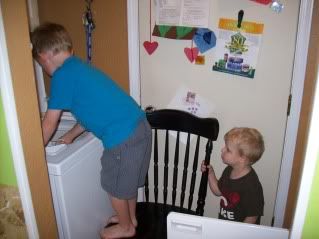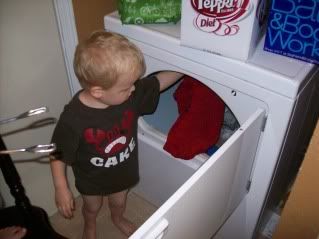 leo's been getting more bottles lately and they looooove to help with this. which is pretty cute. i wish i could accurately type how gus pronounces bottle, b/c it's awesome. something like "boytahl", but cuter than that.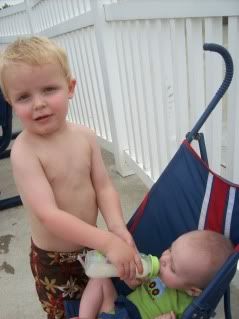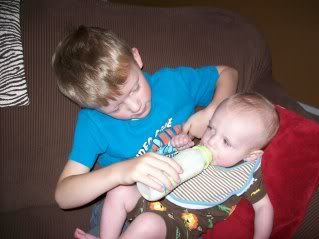 entertaining leo definitely fits in the helpful. not that he's not content to just sit there...because he is mr. happiness. but the boys love to talk in their hilarious little baby voices to him/take him toys/etc. it's awesome. i was letting gus play a game on my phone[i know, i know...supervised! come on..] and he was so sweet to share and show leo;-)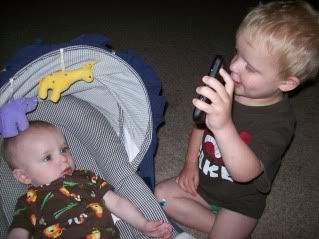 after this he tried to make leo's little fingers push the buttons...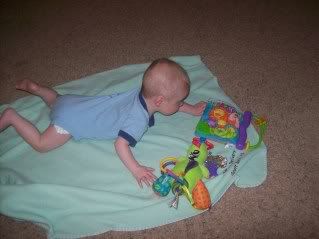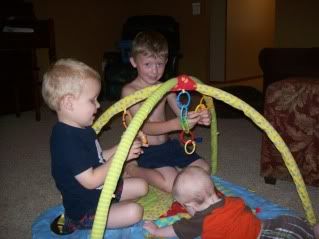 now for the not so helpful, but still amusing. gus is the main star of this topic. shocked? i mentioned the throwing balls out of reach on purpose...it really works for anything. anything odd in this picture?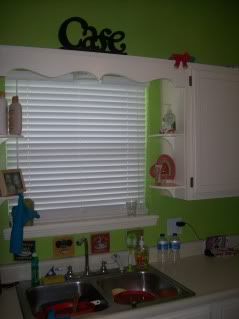 yeah. that's leo's paci. i didn't even notice it, and later he said all innocently, "mommy wook! ah weo's paci?" as if to say, "wow! check it, mom. who do you think did THAT?"
like any keypoint family, we have a multitide of pens lying around. i try to keep track, but i'm always working on a list of some kind...and they just get left out. this is what 10 minutes of unsupervised gus with a pen[and marker] looks like.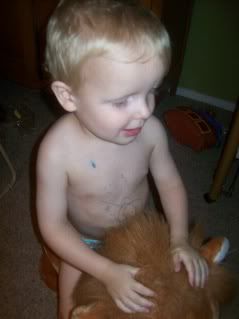 not sure you can tell from that picture exactly how awesome it is.
now for the just fun. rex is always asking to play a game...and mentioned "hide and sink" the other day. he's hilarious playing this game. mostly because he's really bad at it. so i get an awesome hiding spot, wait until he's almost given up...then jump out. i could not get enough of this face when i did it.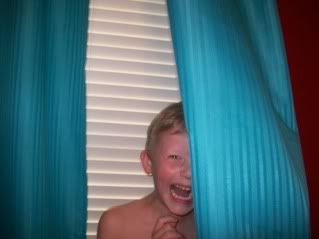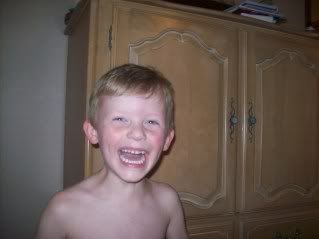 he would pretty much hide where i had just hidden every. single. round. and it was just as funny every time.
i'll be so sad when the days of amusing my kids this easily is gone...