wow.
simplifying is kinda hard.
and is at first, not at all simple. but man. this is going to be GREAT.
however...while going through masses of junk in closets and dressers, the regular house maintenance has been a tad....neglected. so when leo had a massive blowout after lunch i suppose i could have used a whole tub of wipes trying to hold him off for a bath. but i would have still had a dirty kid and then very few wipes. so i changed the diaper, held a dirty, naked baby in one arm, wiped down half the sink with the other...and, well. did this.
can't believe i'm posting this.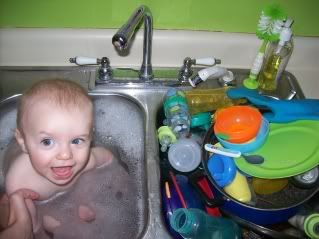 but come on. it's funny. and was quite necessary.
speaking of embarrassing. this is how many walmart sacks were above my dryer. seriously.


and this is about how it looks now. ah.....


p>
and now for the worst one. if i didn't have a rocking after picture, no way would i ever post this. but if i can clean THIS, i can clean/organize anything. so can you!
don't judge me.
now get ready.
and the angels sang...
i walk by that closet and stop and stare. i can't believe how happy it makes me. i feel like a rockstar.



gonna end this post with some videos for the grandparents.
1st up, leo.
1) loves green beans apparently.
2) has the biggest mouth ever.





rex can read!!! ok, not really. but he can memorize...not too shabby.



gus trying to be rex....man i love that baby's voice.