well i gotta say i've stuck with that 'bible time' thing and it has been so fun. and productive. nice when something works! a few days ago we learned "do everything without complaining, phil 2:14"...gus's version is "do everything without
whining
" ;-) kevin was home for lunch one day and said he didn't want to go back, and rex straight called him out on it and quoted the verse. boo ya.
i've been meaning to come up with a more specific schedule for our days at home. today i finally started one and it worked great.
7-8:30 boys wake up, eat, get dressed, brush teeth [rex sleeps later...gus plays his little "twain compoota" while we wait on him]
8:30 bible time
8:45 color/worksheet/something at the table while i wash breakfast dishes
9:00 play
10:00 snack
10:15 chores
10:30 play
11:15 lunch
11:45 boys clean up room
12:00 gus nap
then rex and i hang out...do some more school work type stuff...clean up...sometimes watch a movie or let him play his leapster.
it's been a GOOD day.
a few pics to prove it.
working on 'homework'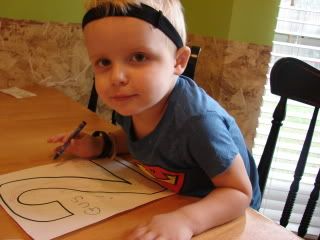 yeah he's wearing a head band. he's awesome. i also just noticed he's using his right hand. thought he was a lefty. make up your mind gus!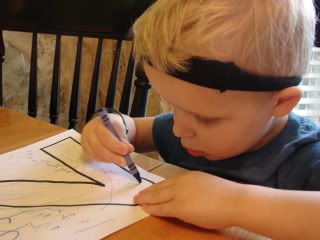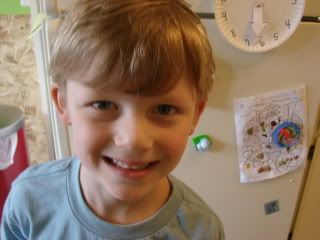 boys are weird.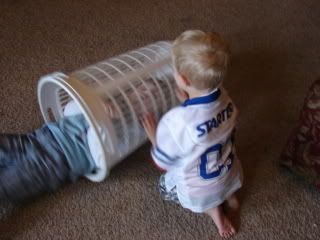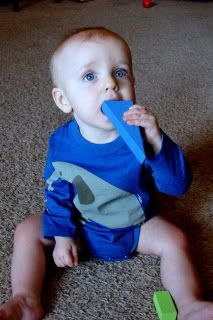 look at all these teeth!!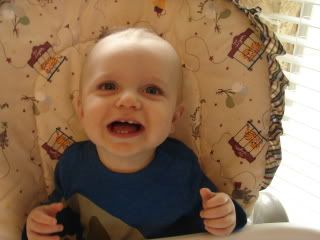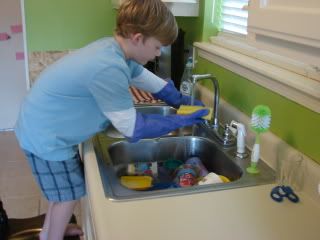 another reason things have been going well, is i've been implementing some duggar rules. i know people talk a lot of trash about them, but i love me some duggars. they do a great job with those kids! i got to go see her speak last week, and she had some FABULOUS ideas on things to do with preschoolers, discipline-wise. i keep meaning to type my notes up...and i will....but seeing some nice results! my favorite is replacing 'yes mam' with 'yes mam, i'd be happy to'. oh my word it's so cute and cheerful. love it.