we are having vacation withdrawals.
i shall relive it by giving you guys the lovely details of the trip:-)
we got to new orleans around noon on saturday. we were herded through lines. it was crowded and humid and i was freaking out a little on the inside. ok the outside a little too. i was looking around at all the people i was sure we'd die with. there's a reason we've never done a cruise before, i was terrified! the line seemed to take a really long time...and when we got on and found our room we had some housekeeping issues that were taken care of with less than a great attitude. i got a major headache as we took off....and was feeling pretty stressed about the whole deal at this point!
but i took an excedrin and short nap and got ready for dinner.
and that is when things got way stinking better and stayed that way.
one of the things i was most worried about was feeling trapped in a tiny room on the bottom of the boat. well 1, our room was not bad at all. plenty roomy, and a king sized bed. we didn't bother with windows or a balcony, and we actually liked it that way. it got SO dark in there. and 2, we were 2 doors away from being out on the deck on the front of the boat. and our room was on one of the highest levels. i wanted to be high enough and close enough to the edge that i could jump ship if everyone else was going down. and we got that:-)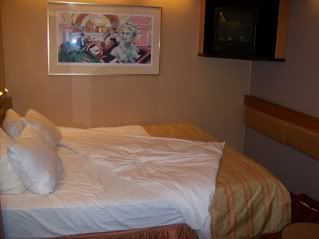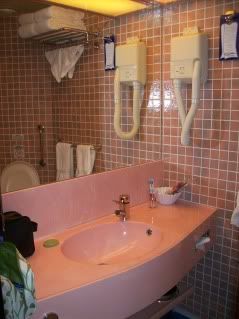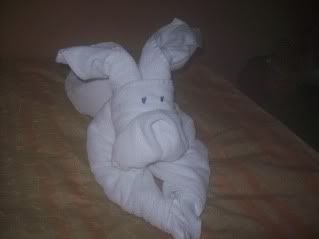 the food...oh the food.
each night we went to a formal dining room with options for appetizers, main course, then dessert. we branched out eating things we'd never order in restaurants.
some of our favorites: roasted duck, veal, lamb, filets, shrimp[most amazing ever], pumpkin soup, lobster bisque, chocolate melting cake, cappucino pie...oh and there were ice cream machines everywhere. we must've had at LEAST 2 ice cream cones a day.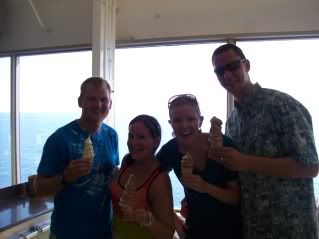 when we'd order at diner half the time our waiter would say, "you like lobster too? ok, i bring dat too". and when he'd bring it he'd get this goofy grin on and say, "you know why it so good? i make it, ya...!"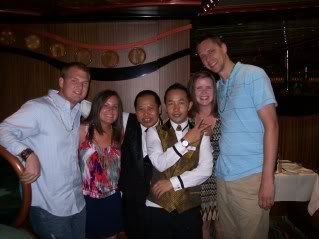 one of our FAVORITE things about the trip...was a few times during dinner the wait staff would randomly turn some song on really loud and break it DOWN dancing. some got up on tables, some grabbed guests and danced in the aisles. it was soooo cute.
there was also a massive buffet with any kind of food you can think of. pizza 24/7. not to mention room service. to say we overate would be the understatement of the century.
there were shows each night. dancing/singing shows, comedy, magic. we wondered around the casino a lot too, making very risky bets on the penny slots;-) at one point i won $20...but over the course of the whole week i'd say i just lost about $30. ha...
one of our favorite things was sitting in the kareoke lounge. some were american idol wanna-be's, and would sign up for a new song as soon as they finished another...and that was annoying. some were so bad and drunk that it was super amusing. and every now and then there was someone AWESOME. one lady sang "midnight train to georgia" and got a standing ovation from the whole place. she was worth sitting through all the others...
the days we spent on the boat traveling to ports were soooo relaxing. we'd wake up around 8 or 8:30, go to the fancy breakfast...put on our suits and lay out until lunch. reading or half sleeping. we'd clean up for lunch, maybe play some cards then take naps. sometimes there would be a random show in the afternoon we'd watch. the highlight of the day would be dinner...then do the shows after.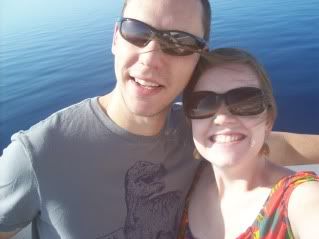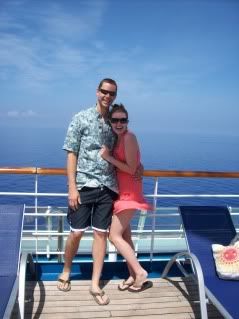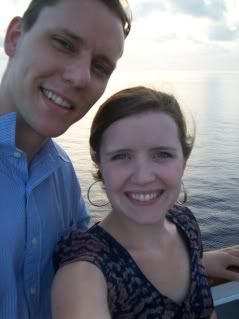 we all thought it was the perfect combo of total relaxation, but plenty to do if you get bored.
the 1st port day was in progreso. we rode a bus downtown and briefly shopped at their flea market. really fun. then we went to an all-inclusive resort for a few hours, where we got to actually swim in the ocean. a nice private pool too. the pools on the boat were much smaller.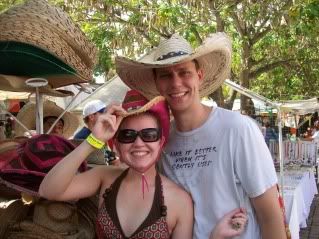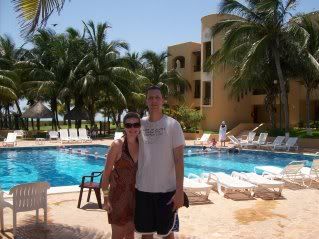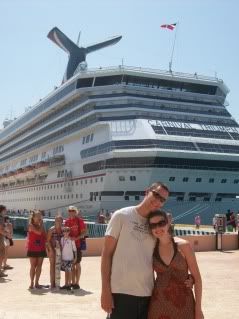 [totally sunburned that day in progreso. stupido. though i swear i wore TONS of sunscreen and reapplied...]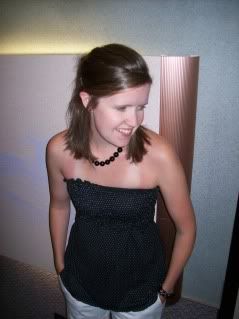 this map was really cool. it showed our route and had our location lit up.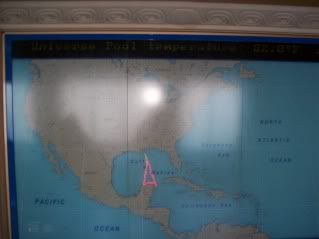 2nd port day was in cozumel, and we just shopped there. we were excited to find kevin a wedding ring, as he's not been wearing one since december when it got too small. it's official, we're married. kevin and i burned out a little faster and went back to the boat early. since most people were out on the island, we got on our suits and played on the water slide like 12 year olds. it was soooo fun. but work! you had to climb about 3 flights of stairs to get to the slide. but worth it.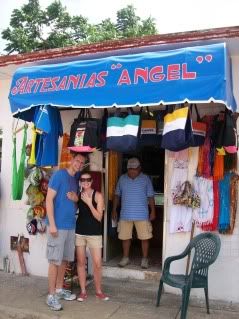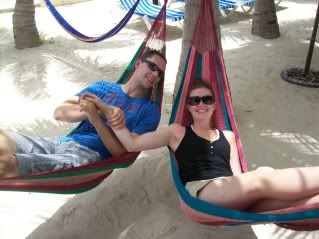 by the way, notice phill parked down the road in cozumel.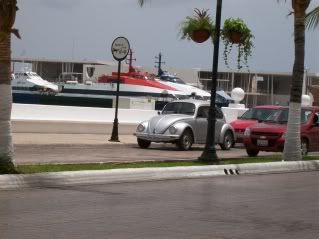 doesn't alto mean tall as well as stop? liked this pic a lot.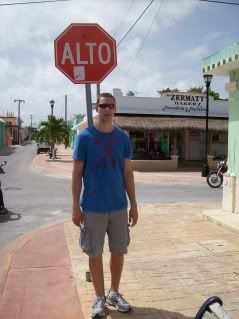 by the way, was totally proud of the semi-conversation i had with our taxi driver in spanish. apparently i was good enough that she though she could talk on and on in spanish...ah well.
we are definitely in love with cruises now. already thinking about one for next year. so fun to share this one with our dear friends!! thanks for tolerating us for a week guys!!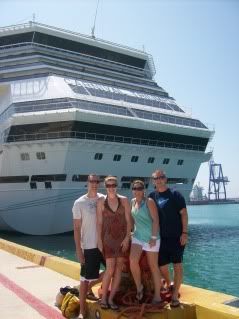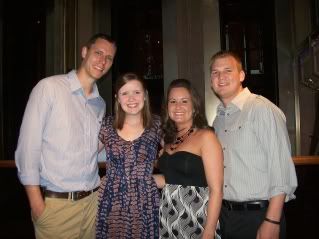 and MAJOR major thanks to kev's parents, my parents and phill and sandy for watching our kids so we could go!! we are so thankful for the break. we know it was a lot of work, and we appreciate it!!